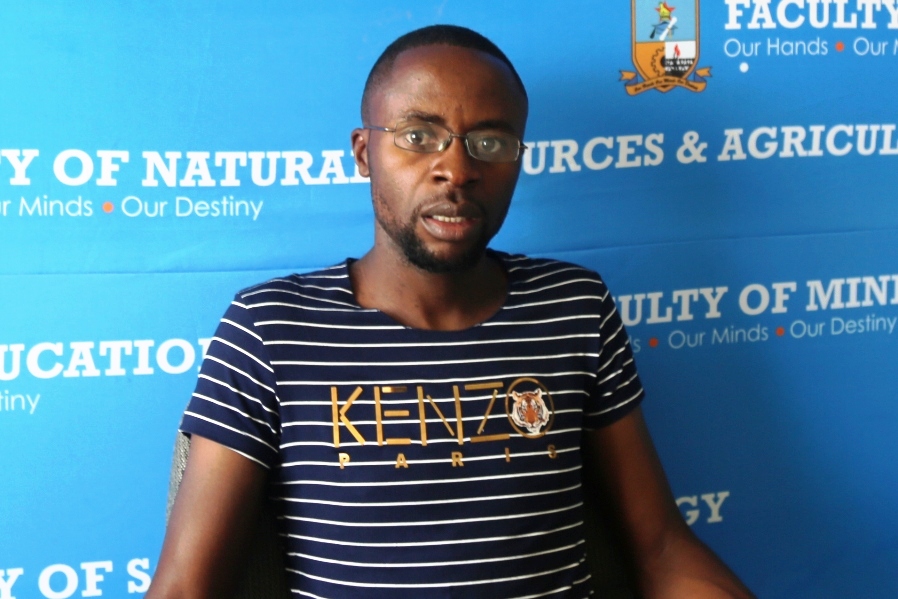 Qualifications
Postdoctoral Fellowship, Communication Studies (University of Johannesburg 2016-2019).
PhD Cultural and Media Studies, Centre for Communication, Media & Society (CCMS) (University of Kwa-Zulu Natal 2012-2014)
MSc Media and Society Studies (Midlands State University 2010-2011)
BSc Media and Society Studies (Midlands State University 2005-2009)
Post Graduate Diploma in Tertiary Education (Midlands State University 2012-2013)
Research Interests
Sports media, fandom, power and identities
Political economy of the media
Cultural Studies and Sociology of Sport
Decolonial and post-colonial studies
Gender, health communication and the media
Social media, fake news and regimes of 'truth'
Peer Reviewed Journal Articles
Ncube, L. (2021). Intersections of nativism and football fandom in Zimbabwean online spaces. Sport in Society. https://doi.org/10.1080/17430437.2021.1973433
Bare,K.S.,Ncube,L. & Chibuwe,A. (2021): Media, Big men and Power Struggles in Football Bodies: Framing the Impasse between the ZIFA and PSI leadership in Selected Media, Critical Arts, DOI: 10.1080/02560046.2021.1945642
Ncube, L. (2019): Digital Media, Fake News and Pro-Movement for Democratic Change (MDC) Alliance Cyber-Propaganda during the 2018 Zimbabwe Election, African Journalism Studies, DOI: 10.1080/23743670.2019.1670225
Ncube, L. & Tomaselli, K. G. (2019), ''Watch my back and I watch yours'': Beyond Habermas' public sphere concept in democratic and participatory dimensions of pre-colonial Shona society public spaces', Journal of African Media Studies

, 11:1, pp. 35–50, doi: 10.1386/jams.11.1.35_1

Ncube L & Chawana F (2018) What Is in a Song? Constructions of Hegemonic Masculinity by Zimbabwean Football Fans, Muziki,

15:1, 68-88, DOI: 10.1080/18125980.2018.1503560

Ncube L (2018): 'Highlander Ithimu yezwe lonke!': intersections of Highlanders FC fandom and Ndebele ethnic nationalism in Zimbabwe, Sport in Society

, 21:9, 1364-1381, DOI: 10.1080/17430437.2017.138878

Ncube L and Munoriyarwa A (2018) See no evil, hear no evil and speak no evil? The Press, Violence and Hooliganism at the 'Battle of Zimbabwe'

.

Soccer & Society

, 19:5-6, 842-857, DOI: 10.1080/14660970.2017.1399612

Vanyoro K and Ncube L (2018) [Re]-presenting knowledge: Exploring the coverage of xenophobia research findings in the Mail& Guardian and the Sowetan

2008-2013.

Journal of Communication and Media Research.
Ncube L. (2017) Sport's journalists and corruption in Zimbabwean football: Reflections on the Asia-gate scandal. Communicatio,

43:3-4, 19-35, DOI: 10.1080/02500167.2017.1385499

Ncube L (2017) Visualising Diverse Religious Performances: The "Sacred" and the "Profane" in Zimbabwean Football, Critical Arts

, 31:4, 69-88, DOI: 10.1080/02560046.2017.1386698

Ncube L and Moyo L (2017) Can Highlanders FC break the jinx? Contesting press discourses on Highlanders FC's nine-year failure in the 'battle of Zimbabwe'

. African Identities, DOI: 10.1080/14725843.2017.1332981

Ncube L (2016) 'Bhora Mugedhi Versus Bhora Musango': The interface between Football Discourse and Zimbabwean Politics. International Review for the Sociology of Sport

, 51(2) 201–218.

Ncube L (2014) The interface between football and ethnic identity discourses in Zimbabwe

.

Critical African Studies

6:2-3, 192-210. DO1: 10.1080/21681392.2014.951153
Accepted papers for publication in peer-reviewed journals
Ncube, L. (forthcoming) Experiences of female journalists in Zimbabwean male-dominated newsrooms. Communicare.
Published Book chapters (Peer reviewed)
Smurtwaite, M. and Ncube L. Networked Audiences and the Politics of Participation in Commercial Music Radio in South Africa. In Chiumbu, S.H & Motsaathebe, G. (Eds) Radio in South Africa. Routledge, pp. 217-232.
Ncube L.

2021

.

Misogyny, Sexism and Hegemonic masculinity in Zimbabwe's Operation Restore Legacy. In : Ndlovu-Gatsheni S & Ruhanya P, (Eds.)

The History and Political Transition of Zimbabwe: From Mugabe to Mnangagwa: London: Palgrave MacMillan.

331-358.

Ncube L and Mhiripiri N.A.

(2020)

'

Mediatization of Zimbabwe's professional football league: Management Style and intellectual property rights in crisis times' in: Onwumechili C (ed.) Africa's Elite Football: Structure, Politics and Everyday Challenges, London and New York: Routledge pp.197-217.

Ncube L (2019) 'Online Football Fandom as a Microcosm of the Digital Participation Divide in Zimbabwe' in: Mutsvairo B and Massimo R (eds) Mapping the Digital Divide in Africa. A mediated Analysis

, Amsterdam University Press pp. 113-130.
ACCEPTED BOOK CHAPTERS FOR PUBLICATION 2021 (PEER REVIEWED)
Ncube, L. and Maposa J. 'Those boys are representing Mashonaland': Digital football fandom, ethnicity, everyday nationalism, and national identity politics in Zimbabwe. In Mpofu, S (ed.) The Politics of Laughter in the Social Media Age – Perspectives from the Global South. Routledge.
PUBLISHED BOOK REVIEWS
Ncube, L. (2020) African language digital media and communication, Critical Arts, DOI: 10.1080/02560046.2020.1823446
Ncube L (2018) Kalamazoo Remembered

,

Critical Arts

, 32:2, 134-136, DOI: 10.1080/02560046.2017.1405454

Ncube L (2015) African football, identity politics and global media narratives: The legacy of the FIFA 2010 World Cup, African Journalism Studies

.
CONFERENCES PAPERS PRESENTED
Ncube, L . 2021. Football fandom and gambling cultures in rural Gokwe, Zimbabwe. Presented at Exploring the Rapid Growth of Commercialised Gambling in Sub-Saharan Africa, 14 July (Virtual conference).
Ncube, L. 2018. 'General Chiwenga give us a boobs-less commander-in-chief': Misogyny, Sexism and Hegemonic masculinity in Zimbabwe's Operation Restore Legacy. Presented at International Gender Conference, University of Zimbabwe, 2018.
Ncube , L. 2017. 'I will retire when you bring AFCON trophy to State House': Online football fandom and protest cultures in Zimbabwe

. (Presented at SACCOM Conference, Rhodes University, October).

Ncube, L. 2016. See no evil, hear no evil and speak no evil? The Press, Violence and Hooliganism at the 'Battle of Zimbabwe'

(SACOMM Conference, Free State University October).

Ncube, L. 2013. More than just a game? The interface between football and identity 'discourses' in post-independence Zimbabwean society

(Presented at the School of Applied Human Science Conference, October).

Ncube, L. 2012. "Shifting goal posts: The interplay between political advertisements and editorial slants in newspapers during election period

, Presented at the IAMCR Conference, Durban, South Africa, 15-19 July )

Mugari, Z.E and Ncube L. 2010. Missionary Press and Commitment to Speak Truth to Power (Co-Presented at Beyond Normative Approaches

: Everyday Media Culture on Africa, University of Witwatersrand, Johannesburg, 27 to 29 February)
AWARDS Received Postdoctoral Excellence Award in the Faculty of Humanities for Outstanding Research and Academic Citizenship (November 2018).
Suggest a correction
If you'd like to suggest a correction for this profile and you are the owner use the edit button button below. For corrections to another person's profile contact the Webmaster on the email webmaster@staff.msu.ac.zw or call ext 2132
Edit Profile