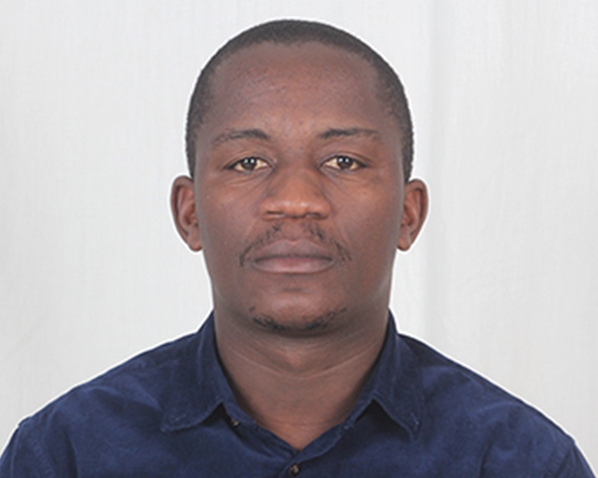 Qualifications:
PhD (Sun Yat-sen University, China)
MSc Anatomy (Jilin)
BSc (Hons) Physiotherapy (UZ)
BSc (Hons) Intercalated Human Anatomy (UZ)
Research interests:             
Use of aggregated induced emission luminogens in monitoring progression of Alzheimer's disease.
Neurorehabilitation and recovery following stroke and head injuries.
Anatomy Education.
Publications and Conference Presentations
Chibhabha F, Li Y, Hao Y, Zhao H, Hao L. Aquaporin 5 expression and its relationship to apoptosis in different grades of differentiated non-small cell lung carcinoma. Advances in Lung Cancer, 2016; 5: 1-12.
Chibhabha F, Tadyanemhandu C, Chengetanai S, Moyo A. An analysis of pain following traumatic spinal cord injury among adults in Zimbabwe. (Manuscript accepted for the November 2016 Issue for Open Journal of Rehabilitation and Therapy).
Zibin Liang, Siyang Wang, Zhong Lin, Shaoyan Feng, Zhibin Cheng, Yaqi Yang, Ying Kuang, Chibhabha Fidelis, Shahid Ullah, Feng Li. Phase 1 trial of nedaplatin chemotherapy concurrent with radiotherapy for untreated locoregionally nasopharyngeal carcinoma. Cancer Chemotherapy and Pharmacology, 2016; 77(3): 643-651.
Tadyanemhandu C, Chiyangwa PC, Chengetanai S, Chibhabha F, Van Aswegen H. Utilisation of research evidence in clinical practice to improve health care delivery practices, attitudes and challenges faced by physiotherapists in Zimbabwe: a descriptive cross sectional study. Safety in Health, 2016; 2:11. 
Chengetanai S, Chibhabha F, Mawera G. Anatomical variations in the lateral femoral cutenous nerve. Clinical Anatomy Journal, 2011; 24: 924-935. (Proceedings of the ASSA2011 Conference, South Africa).
Chibhabha F, Mawera G, Chengetanai S. The prevalence of left ventricular hypertrophy among adult Zimbabweans: A hospital based autopsy study at the 39th Annual Conference of the Anatomical Society of Southern Africa (ASSA2011), Johannesburg, South Africa, 22-25 May 2011. 
Chibhabha F, Moyo A. The burden of pain following spinal cord injury among adult blacks in Harare. A Zimbabwean experience. IBRO-Asian Pacific Associate School of Neuroscience, Atta-Ur-Rahman School of Applied Biosciences, NUST, Islamabad, Pakistan, September 30-October 4, 2013.
Chibhabha F, Moyo A. An analysis of pain following spinal cord injury among adult blacks in Harare, Zimbabwe. The 2015 Society of Neuroscientists in Africa Conference, Elangeni Hotel, Durban, South Africa from 25th to 30th March, 2015.
Yaqi Yang, Laijian Wang, Chibhabha Fidelis, Jian Huang, Zibing Liang, Miaomiao Kang, Ying Kuang , Fujie Jia, Muke Xie, Shahid Ullah, Bin Jiang, Wenjun Gao, Feng Li. New selective LXR modulators may develop potent drugs particularly for treatment of Alzheimer's disease. Neuroscience 2016, the 46th Annual Meeting of the Society for Neuroscience (SfN), 12-16 November, San Diego, CA, USA.
Relevant Certificates:
Certificate in Advanced Educational Leadership: Health Education Advanced Leadership Program, 2016 (University of Zimbabwe).
Suggest a correction
If you'd like to suggest a correction for this profile and you are the owner use the edit button button below. For corrections to another person's profile contact the Webmaster on the email webmaster@staff.msu.ac.zw or call ext 2132
Edit Profile