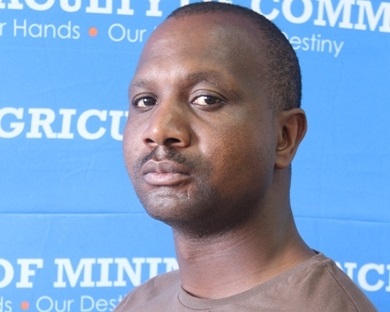 Qualifications:
Doctor of Literature and Philosophy (University of Fort Hare),
MA African Languages and Culture (MSU):
BA Hons African Languages and Culture (MSU);
Post Graduate Diploma in Tertiary Education (MSU)
Research Interests:
Sociolinguistics,
Theoretical Linguistics,
Applied Linguistics,
Language Pedagogics,
Onomastics,
Cultural Studies,
Oral Literature
Cultural Studies.
Publications
Muringa, T.F. & Nhongo, R. (2017) 'Nicknaming and human relations in the workplace: A case study of selected organisations in Gweru Urban', In Mashiri, P., E. Chabata, & Z. Mamvura. (eds)

Zimbabwean Naming Practices and Patterns: A Sociolinguistic Approach

. Harare: University of Zimbabwe Publications. Pp 61-73.

Nhongo, R. (2018) 'Retrospecting the decade of crisis: An exegesis of selected songs by Ndolwane Supersounds and Mokisi Connection' In Muwati, I & C. Tembo. (eds)

Singing Nation and Politics: Music and the 'Decade of Crisis' in Zimbabwe

, 2000-2010. Pp 188-206.

Nhongo, R. (2017) 'Linguistic and cultural cognitive relevance of televised narratives to the Ndebele child in Bulawayo

'

.

Per Linguam: A Journal of Language Learning

, Vol 33, 2:51-62.

Nhongo, R., Tshotsho, P.B,. Cekiso, M. & Zhou, S. (2017) 'Exploring the Second Language Teaching Strategies of Ndebele English Teachers in Selected Secondary Schools in Zimbabwe'.

Gender and Behaviour

, Vol 15, 2: 8576-8582.

Nhongo, R., Masuku, J. & Dlodlo, S. (2015) 'Remodelling Ndebele Culture and Sensibilities through Modern Oral Art Forms. The Dyke

, Vol 9, 2: 85-105.

Nhongo, R. & Masuku, J. (2014) 'The influence of an African language on European names in the Matabeleland Region of Zimbabwe: Is it language corruption, Language Development or Resistance? ICOS 24

, 1342-1349.

Nhongo, R. (2013) 'A National Language Policy for Zimbabwe in the Twenty-First Century: Myth or Reality?'

Journal of Language Teaching and Research

Vol 4,6 :1208-1215.

Nhongo, R. & Masuku, J. (2012) The influence of Kalanga on place names in Zimbabwe's Matobo district: Whose culture, whose values? The Dyke,

Vol 6,4: 211-223.
Accepted for Publication
Linguistic And Cultural Cognitive Relevance Of Televised Narratives To The Ndebele Child In Bulawayo (Per Linguam Journal: A Journal of Language Learning)
Remodelling Ndebele Culture And Sensibilities Through Modern Oral Art Forms (The Dyke Journal Vol 9, No 2: 2015)
Book Chapters Accepted for Publication
Retrospecting The Decade of Crisis: An Exegesis of selected songs by Ndolwane Supersounds and Mokisi Connection (Book chapter in 'Singing Nation and Politics: Music and the 'Decade of Crisis' in Zimbabwe, 2000-2010')
Contextualising Zimbabwean urban grooves in the face of a crisis (Book Chapter in Book chapter in 'Singing Nation and Politics: Music and the 'Decade of Crisis' in Zimbabwe, 2000-2010')
Nicknaming and human relations in the workplace: A case study of selected organisations in Gweru Urban (Book Chapter in Zimbabwean Naming Practices and Patterns: A Multidisciplinary Approach)
Community Engagement
Faculty Representative in Master Teaching Time table committee
Faculty Representative in Health and Safety committee
Counselor in the department of African Languages and Culture and faculty representative in the university counseling committee.
Part-Time Lecturer at Lupane State University
External examiner at Mkoba Teacher's College
Facilitated a Ndebele A level Grammar Workshop at Zezane High School
Suggest a correction
If you'd like to suggest a correction for this profile and you are the owner use the edit button button below. For corrections to another person's profile contact the Webmaster on the email webmaster@staff.msu.ac.zw or call ext 2132
Edit Profile