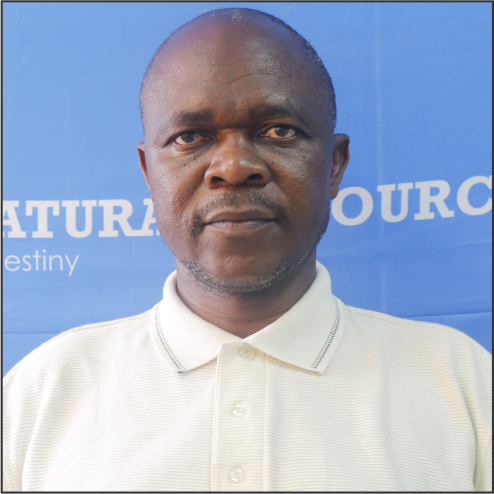 Qualifications:
 Master of Philosophy (Mphil) in Agronomy: Midlands State University.
  Post Graduate Diploma in Tertiary Education. Midlands State University,
  Bsc Natural Resources Management and Agriculture Honours Agronomy Midlands State University
   National Diploma in Agriculture:Esigodini College of Agriculture,
Research Interest:
Climate change and crop production
Weed dynamics and control in crop production.
Indigenous knowledge systems in agriculture.
Publications
Johnson Masaka, Noel Chimwanda, Ignatius Chagonda and Misheck Chandiposha (2016). A comparative evaluation of the physical and chemical characteristics of composited tea tree (Melaleuca alternifolia L.) with pine bark growing media in tobacco (Nicotiana tabucum) seedling production. Advances in Agriculture, Hindawi publishing cooperation. Vol 2016
B.T. Manenji, H. Mushipe, I. Chagonda, M.T. Mabarani, M. Chandiposha (2016). Effect of Tianda 2116 plant growth regulator on growth and yield of winter wheat (Triticum aestivum L.) American Journal of Plant Sciences, 7, 326-332.
Ignatius Chagonda, Francis T. Mugabe, Adelaide Munodawafa, Chipo P. Mubaya, Philip Masere, Cyrial Murewi, and Veronica Makuvaro (2015). Engaging smallholder farmers with seasonal climate forecasts for sustainable crop production in semi-arid areas of Zimbabwe. African Journal of Agricultural Research Vol. 10 (7) 668-676.
Chagonda I1 Mapfeka R. F1. and Chitata T1 (2014). Effect of tillage systems and vine orientation on yield of sweet potato (Ipomoea batatas L.). American Journal of Plant Sciences, 5, 3159-3165.
Makuvaro Veronica, Walker Sue, Munodawafa Adelaide, Masere Tirivashe Phillip, Murewi Cyril and Chagonda Ignatius (2014). "An overview of current agronomic practices of smallholder farmers in semi-arid Central and Western Zimbabwe." African Journal of Agricultural Research 9, No. 35, 2710-2720. 
Ignatius Chagonda, Adelaide Munodawafa, Francis T. Mugabe, Veronica Makuvaro, Phillip Masere, Cyril F.T. Murewi (2013). Comparative performance of scientific and indigenous knowledge on seasonal climate forecasts. A case study of lupane, semi-arid Zimbabwe. International Journal of Agronomy and Agricultural Research (IJAAR). Vol. 3, No. 5 1-9Misheck Chandiposha, Chagonda Ignatius and Makuvaro Veronica. (2013). Utilisation of common grain crops in Zimbabwe. African Journal of Food Science Volume 7 (9) 253-257
F.T. Mugabe, T. Chitata, J. Kashaigili, I. Chagonda (2011). Modelling the effect of rainfall variability, land use change and increased reservoir abstraction on surface water resources in semi-arid southern Zimbabwe. Physics and Chemistry of the Earth 36 1025-1035 
Mugabe F.T., Mubaya, C.P., Nanja, D., Gondwe, P., Munodawafa, A., Mutsvangwa, E., Chagonda, I., Masere, P., Dimes, J., Murewi, C (2010). Use of indigenous knowledge systems and scientific methods for climate forecasting in southern Zambia and north west Zimbabwe, Zimbabwe journal of Technical sciences Vol.1, No.1: 19-30
Chagonda, I., Churi, J., Dieye, A., Houenou, B., Hounkponou, S.,Kisiangani, E., Kituyi, E., Lukorito, C., Macharia, A., Mahoo, H.,Majule, A., Mapfumo, P., Mtambangwe, F., Mugabe, F.T., Ogallo, L.,Ouma, G. and Wanda, G. (2010). Integrating meteorological and indigenous knowledge-based seasonal climate forecast for the agricultural sector: Lessons from participatory action research in sub-Saharan Africa. CCAA learning paper. Editors Ziervogel, G. and Opera, A. 
Community Engagement:
Organising training workshop for agricultural extension staff
Organising and facilitating farmer training workshops
Suggest a correction
If you'd like to suggest a correction for this profile and you are the owner use the edit button button below. For corrections to another person's profile contact the Webmaster on the email webmaster@staff.msu.ac.zw or call ext 2132
Edit Profile