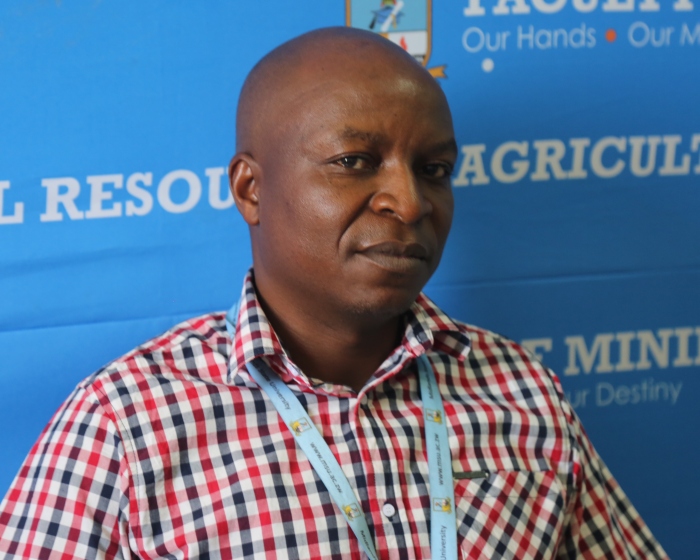 Qualifications:
MSc in Tropical Entomology (UZ)
BSc (Hons) In Biological Sciences (UZ)
Studies In Progress: Doctor of Philosophy in Stored Product Entomology
Research Interests:
Molecular Genetics
 Entomology.
Publications:
Bare, J. and Mutambara-Mabveni, A. (2010). Behavioural characteristics of the Scale insect Aspidoproctus sp. near glaber (Homoptera: Margarodidae) in different instar stages in Miombo woodlands in Hurungwe, Zimbabwe.MSUJSAT Vol 2(1)
Mubvekeri, W., Bare, J and Makaka, C. M. (2014). Assessing the diversity and intensity of pesticide use in communal area conton production in Zimbabwe. J. Ecol. and Nat. Res,
In Press: Bare J. and Chinhengo A. Preliminary investigation of the effect of Trichoderma harzinum  (isolate T 77) on the growth of Phellinus remosus in culture.(Journal Title Archives of Phytopathology and Plant Protection: Taylor & Francis)
Bare, J and Tsuro B. Evaluation of the functional response of the ladybird beetle Cheilomenes lunata (Fabricius) (Coleoptera: Coccinellidae) and its potential as a biological control agent for the cabbage aphid Brevicoryne brassicae (Homoptera: Aphididae)( Journal Title: Biocontrol Science and Technology: Taylor & Francis)
Bare, J., Moyo, P. and Chimoga, A. R. The functional responses of Hippodamia (Adonia) variegata feeding on the cotton aphid, Aphis gossypii.
Mguni S., Manda J., Bare J., Chekenya L., Makaure Jand Makaka C. In press. In vitro antibacterial activity of honey against Staphylococcus aureus and Escherichia coli. Elixir International Journal.
Mguni S, SibandaN ,Bare J , MakakaCastonand Mabaya L.In press. An assessment of the microbial quality of sausage and chicken sold in formal and informal markets at a taxi rank in Bulawayo, Zimbabwe. Elixir International Journal.
Submitted:
Bare, J and Tsuro B. Evaluation of the functional response of the ladybird beetle Cheilomeneslunata (Fabricius) (Coleoptera: Coccinellidae) and its potential as a biological control agent for the cabbage aphid Brevicorynebrassicae (Homoptera: Aphididae)(Journal Title: Biocontrol Science andTechnology: Taylor & Francis)
Bare, J., Moyo, P. and Chimoga, A. R.The functional responses of Hippodamia (Adonia) variegata feeding on the cotton aphid, Aphis gossypii
Suggest a correction
If you'd like to suggest a correction for this profile and you are the owner use the edit button button below. For corrections to another person's profile contact the Webmaster on the email webmaster@staff.msu.ac.zw or call ext 2132
Edit Profile