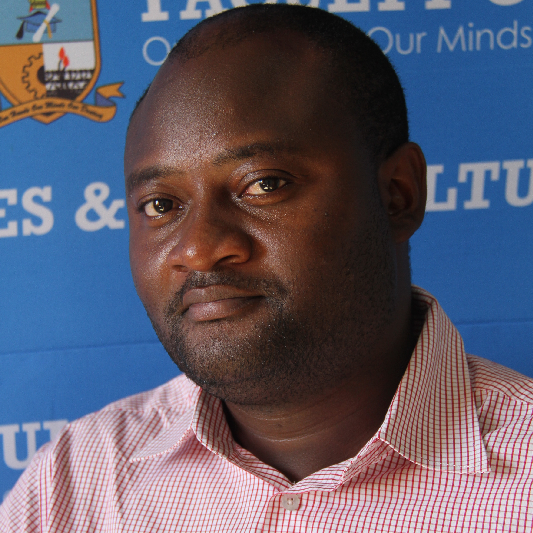 Qualifications:
PhD (Applied Biological Sciences)-Ghent University (Belgium). [Thesis title: Ixodid ticks parasitising cattle in Zimbabwe: ecology and managment.]
MSc Tropical Animal Health
BSc (Honours) Livestock and Wildlife Management
Post Graduate Diploma in Tertiary Education (PDTE).
Research Interests:
Tropical animal health and production
Publications
Sungirai, M., Moyo, D.Z., De Clercq, P., Madder, M., Vanwambeke, S.O., De Clercq,
E.M., 2018. Modelling the distribution of Rhipicephalus
microplus and R. decoloratus in
Zimbabwe. Veterinary Parasitology: Regional Studies and Reports.14C, pp.41-49.,
https://doi.org/10.1016/j.vprsr.2018.08.006.

Moyo, D.Z., Chakuya, J., Sungirai, M., 2018. Ixodid ticks of African buffalo (Syncerus caffer), impala (Aepyceros melampus) and elephant (Loxodonta africana) in five protected
park estates in the Zambezi valley, Zimbabwe. Experimental and Applied
Acarology 75 (4), 409-417.

Marvelous Sungirai, Samantha Baron, Nicolaas A. Van der Merwe, Doreen Zandile Moyo,
Patrick De Clercq, Christine Maritz-Olivier, Maxime Madder: Population
structure and genetic diversity of Rhipicephalus
microplus in Zimbabwe. Acta Tropica 01/2018; 180:42-46.,
DOI:10.1016/j.actatropica.2018.01.003

Sungirai, M., Abatih, E.N., Moyo, D.Z., CLERCQ, P.D. and Madder, M., 2017. Shifts in the distribution of ixodid ticks parasitizing cattle in Zimbabwe. Medical and veterinary entomology, 31(1), pp.78-87.
Sungirai, M., Baron, S., Moyo, D.Z., De Clercq, P., Maritz-Olivier, C. and Madder, M., 2018. Genotyping acaricide resistance profiles of Rhipicephalus microplus tick populations from communal land areas of Zimbabwe. Ticks and tick-borne diseases, 9(1), pp.2-9.
Sungirai, M., Moyo, D. Z., De Clercq, P., & Madder, M. (2016). Communal farmers' perceptions of tick-borne diseases affecting cattle and investigation of tick control methods practiced in Zimbabwe. Ticks andtick-bornediseases, 7(1), 1-9.
Sungirai, M., Masaka, L., Nyamukanza, C., Chimwaza, E.P. (2015). Effect of grouping weaned piglets by weight classes: Evidence from Zimbabwe. Midlands State University Journal of Science, Agriculture and Technology.
Masaka, L., Mhaka, V., Sungirai, M., &Nyamukanza, C. (2015). Growth performance of Brangus steers fed graded levels of sun-dried broiler litter as a substitute for cottonseed cake. Tropical animal health and production, 1-5. DOI10.1007/s11250-015-0827-2. Impact Factor 1.09
Sungirai, M., Madder, M., Moyo, D. Z., De Clercq, P., & Abatih, E. N. (2015). An update on the ecological distribution of the Ixodidae ticks in Zimbabwe. Experimental and Applied Acarology, 1-12. DOI. 10.1007/s10493-015-9892-5. Impact Factor 1.77
Timothy Gotora, Lawrence Masaka, and Marvelous Sungirai, "Effect of Cow Urine on the Growth Characteristics of Fusarium lateritium, an Important Coffee Fungus in Zimbabwe," International Journal of Agronomy, vol. 2014, Article ID 986068, 4 pages, 2014. doi:10.1155/2014/986068
Marvelous Sungirai, Lawrence Masaka, and Tonderai Maxwell Benhura, "Validity of Weight Estimation Models in Pigs Reared under Different Management Conditions," Veterinary Medicine International, vol. 2014, Article ID 530469, 5 pages, 2014. doi:10.1155/2014/530469
Lawrence Masaka, Marvelous Sungirai, Casper Nyamukanza & ChidoBhondai. 2014. Sow removal in a commercial pig herd in Zimbabwe. Tropical Animal Health and Production. DOI:10.1007/s11250-014-0554-0. Impact Factor 1.09
Sungirai M., Masaka L. &Mbiba C. 2014. The prevalence of Taeniasaginatacysticercosis in the Matabeleland Provinces of Zimbabwe. Tropical Animal Health and Production. DOI:10.1007/s11250-014-0538-0. Impact Factor 1.09
Marvelous Sungirai, Moses Mucheni, Lawrence Masaka 2013. Efficacy of different concentrations of Aloechabaudiileaf gel as a substitute of a sulphanomideforthe control AvianCoccidiosis.Open Journal of Applied Sciences.7:3 pp 430-435. http://dx.doi.org/10.4236/ojapps.2013.37053
De Clercq E. M., Vanwambeke S. O., Sungirai M., Adehan S., Lokossou R. & Madder M. 2012. Geographic distribution of the invasive cattle tick Rhipicephalus microplus, a country-wide survey in Benin. Experimental and Applied Acarology. DOI 10.1007/s10493-012-9587-0. Impact Factor, 1.77
Suggest a correction
If you'd like to suggest a correction for this profile and you are the owner use the edit button button below. For corrections to another person's profile contact the Webmaster on the email webmaster@staff.msu.ac.zw or call ext 2132
Edit Profile