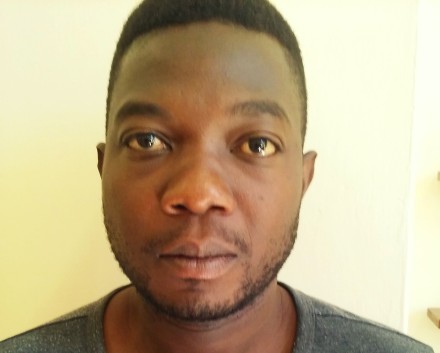 Qualifications:
MSc Material Chemistry (MSU)

BSc Honours Chemical Technology (MSU)

Post Graduate Diploma in Tertiary Education (MSU)
Research Interests:
Materials Chemistry with particular specialisation in the area of porous metal organic frameworks (MOFs).
Publications:
Vitalis Chitsa, Ruvimbo Chihava, Daniel Apath, Mambo Moyo, Munyaradzi

Shumba, and Piwai Tshuma,

One-Pot Synthesized Nickel-Cobalt

Sulfide-Decorated Graphene Quantum Dot Composite for Simultaneous

Electrochemical Determination of Antiretroviral Drugs: Lamivudine and

Tenofovir Disoproxil Fumarate

.

Journal of Sensors

.,

2020(6):1-13

Tafadzwa W.Murinzi,

Tella Adedibu Clement

,

Vitalis Chitsa

,

GiftMehlana,

Copper oxide nanoparticles encapsulated in HKUST-1 metal-organic

framework for electrocatalytic oxidation of citric acid.

Journal of Solid State

Chemistry

,

Volume 268

, December 2018, Pages 198-206

Gift Mehlana, Vitalis Chitsa and Tawanda Mugadza, Recent Advances in

Metal-Organic Frameworks Based on Pyridylbenzoates: Properties and

Application,

RSC Adv

., 2015,5, 88218-88233

Mandina Shadreck, Shoko Piwai, Chigondo Marko, Zinyama Nceboyekwethu

Primrose, Chitsa Vitalis, Muzondo Maria, Maposa Munashe, Masawi

Damascas, Murinzi Tafadzwa and Moyo Mambo, Sorption of phenol from

aqueous solution using chicken feathers. Midlands State University Journal of

Science, Agriculture, and Technology, 5, 2014

E. Sebata, M. Moyo U. Guyo, N. P. Ngano, B. C. Nyamunda, F. Chigondo, V. Chitsa,M. Shumba. (2013). Adsorptive Removal of Atrazine from Aqueous Solution Using Bambara Groundnut Hulls (Vigna Subterranean). International Journal of Engineering Research and Technology. 2(5): 312-321.
Conferences Attended:
Zimbabwe Chemical Society Annual General Conference, Fair Mile Hotel,

Gweru, September 2019.

SACI INORG-Inorganic Chemistry Conference 2015. Rhodes University 28

June to 02 July 2015.
Membership to professional bodies
Zimbabwe Chemical Society (ZCS)

South African Chemical Institute (SACI), RSA
Suggest a correction
If you'd like to suggest a correction for this profile and you are the owner use the edit button button below. For corrections to another person's profile contact the Webmaster on the email webmaster@staff.msu.ac.zw or call ext 2132
Edit Profile