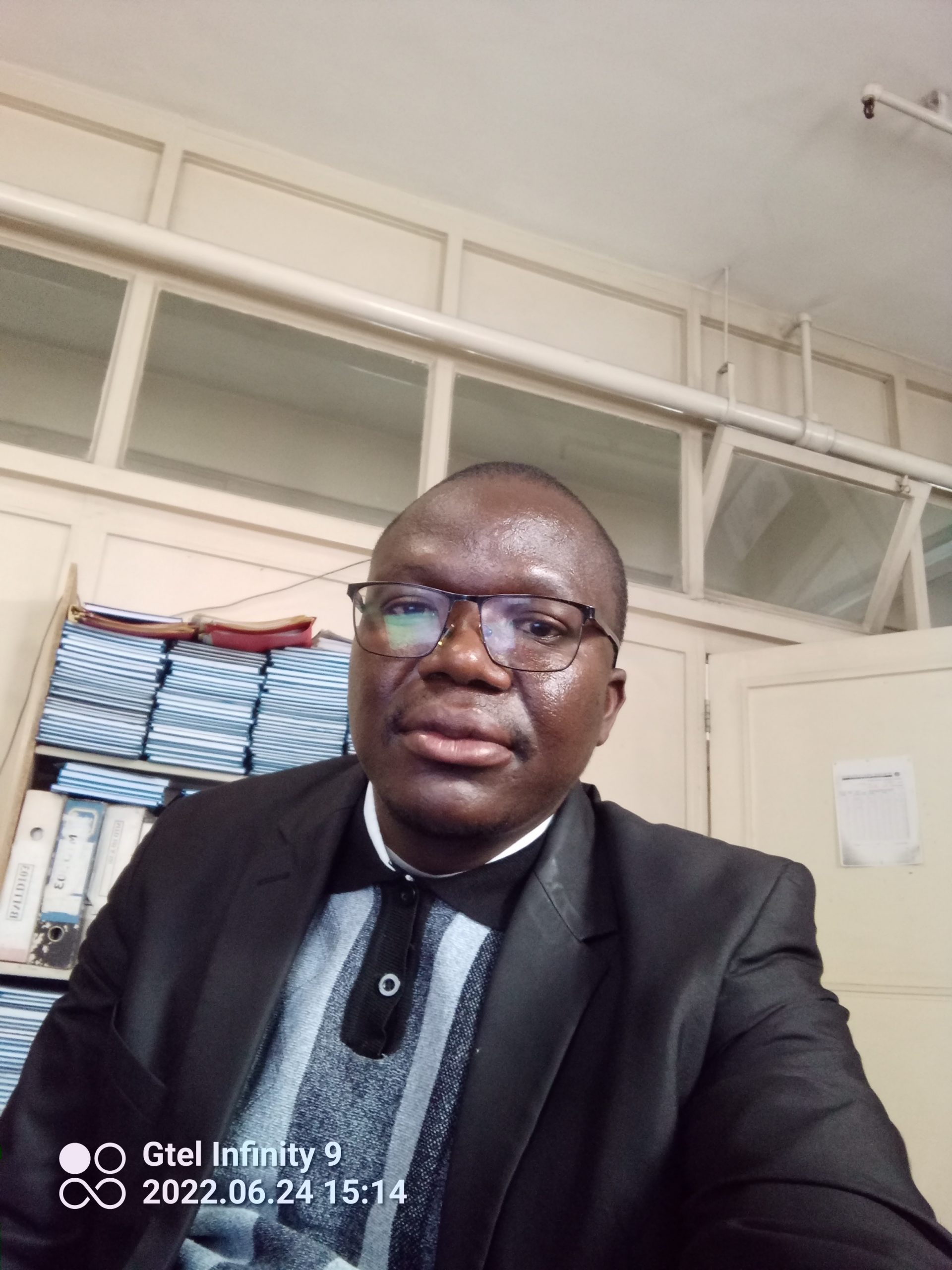 Qualifications
PhD Agriculture (Soil Science) (UFH, South Africa)
MSc Agroforestry (BUSE, Zimbabwe)
Master of Business Management (MBA) (ZOU, Zimbabwe)
BSc (Hons) Natural Resources Management and Agriculture (Crop Production and Horticulture) (MSU, Zimbabwe)
Post-Graduate Diploma in Education (PGDE) (ZOU, Zimbabwe)
Research Interests
Sustainable soil management practices
Irrigation and crop, soil and water relations
Impact of soil organic matter on soil-water conservation and climate change
Soil conservation & fertility management
Horticulture & Organic farming
On-going research
Multi-site evaluation of Chenopodium quinoa Willd (Quinoa) growth and performance under Zimbabwean conditions.
Quantifying the effects of conservation agriculture (CA) on in-field soil loss and water conservation under dryland crop production.
The influence of soil organic carbon, fertiliser management and weeding time on maize (Zea mays L.) yield and weed dynamics on homestead fields.
A framework/model for adopting small grains value chain in resilience building for smallholder farmers in Zimbabwe.
Selected publications
Justin Chipomho, Cosmas Parwada, Joyful. T. Rugare, Stanford Mabasa, Regis Chikowo & Arnold. B. Mashingaidze. 2021. Influence of soil organic carbon, fertilizer management, and weeding regime on weed dynamics and maize productivity on sandy soils in Eastern Zimbabwe. South African Journal of Plant and Soil. http://doi.org/10.1080/02571862.2020.1845831
Parwada C, Chigiya V, Ngezimana W and Chipomho J. 2021. Sensory evaluation of Spinacia oleracia. L (baby spinach) grown under three organic fertilizers. International Journal of Horticultural science. http://doi.org/10.31421/ijhs/27/2021/8670
Parwada C and Chinyama A.T. 2021. Land equivalent ratio of cowpea-sorghum relay intercropping as affected by different cattle manure application rates under smallholder farming system. Front. Sustain. Food Syst. 5: 778144. DOI: 10.3389/fsufs.2021.778144
Bandason Wellington, Parwada Cosmas, Musara P. Joseph, Nyamushamba. B. Godfrey & Kaseke Tawanda. 2021. Unlocking the potential of value chain as climate change resilience strategies. Can Macadamia nuts (Macadamia integrifolia) offer the gateway? South African Journal of Agricultural Extension. DOI: 10.17159/2413-3221/2021/v49n3a12852
Mohale P.M, Manyevere A, Parwada C & Zerizghy M.G. 2021. Effect of Eucalyptus wood-based compost application rates on Persea americana Mill (avocado) foliar nutrient content and fruit yield. Agronomy, Plant and Soil Section. DOI: 3390/agronomy12020477.
Cosmas Parwada, Tatenda. F. Parwada, Justin Chipomho, Nyamande Mapope, Emmanuel Chikwari and Culver Mvumi. 2022. Evaluation of Cicer arietinum (chickpea) growth performance and yield indifferent soil types in Zimbabwe. Journal of Current Opinion in Crop Science, 3(1), 16-27
Parwada C, Chipomho J, Mapope N, Masama E and Simango K. 2022. Role of Agroforestry on Farmland Productivity in Semi-Arid Farming Regions of Zimbabwe. Research on World Agricultural Economy. 3(2), 515. http://dx.doi.org/10.36956/rwae.v3i2.515
Chipomho. J, Tatsvarei, S, Parwada C, Mashingaidze A.B, Rugare J.T, Mabasa S and Chikowo R. 2022. Weed types and dynamics associations with Catena Landscape positions: Smallholder farmers' knowledge and perceptions in Zimbabwe. Inter. Journal of Agronomy. Article ID 2743090.
Mohale PM, Manyevere A, Parwada C, Zerizghy MG (2023) Effect of eucalyptus woodbased compost application rates on soil chemical properties in semi-organic avocado plantations, Limpopo province, South Africa. PLoS ONE 18(2): e0265728. https://doi.org/10.1371/journal. pone.0265728
Parwada, C., & Marufu, H. (2023). Digitalisation of agriculture in Zimbabwe: Challenges and opportunities. International Journal of Sustainable Agricultural Research, 10(1), 32–41. https://doi.org/10.18488/ijsar.v10i1.3280
O Gwatidzo V, Chipomho J, Parwada C. Understanding Mechanisms of Herbicide Selectivity in Agro-Ecosystems: A Review. Advanced Chemicobiology Research. 2023 Feb. 10 [cited 2023 Feb. 15];2(1):77-86. Available from: https://ojs.wiserpub.com/index.php/ACBR/article/view/2351
Selected Book Chapters
Cosmas Parwada, Justin Chipomho & Ronald Mandumbu. 2021. In-field soil conservation and crop productivity in marginalized farming areas of Zimbabwe. In: Food Security for African Smallholder Farmers. Pg 281-294
Cosmas Parwada, Justin Chipomho & Ronald Mandumbu. 2021. Building resilience to climate change by adopting conservation agriculture in the smallholder farming systems. In: Food Security for African Smallholder Farmers. Pg. 75-87
Cosmas Parwada, Justin Chipomho and Nyamande Mapope. 2023. Farming Systems Improvements in Different Regions. In: Cereal Crops. Pg 1-9. DOI: 10.1201/9781003250845
Cosmas Parwada and Justin Chipomho. 2023. Role of vermicompost in organic vegetable production under resource-constrained farmers in Zimbabwe. In: Vermicomposting for Sustainable Food Systems in Africa. DOI: 10.1007/978-981-19-8080-0
Editorial role
Editorial Board member in the following journals: (1) Environmental contaminants Reviews (2) Sustainability in Food and Agriculture (3) International Journal of Applied Agricultural Sciences (4) Journal of Agronomy Research
Suggest a correction
If you'd like to suggest a correction for this profile and you are the owner use the edit button button below. For corrections to another person's profile contact the Webmaster on the email webmaster@staff.msu.ac.zw or call ext 2132
Edit Profile