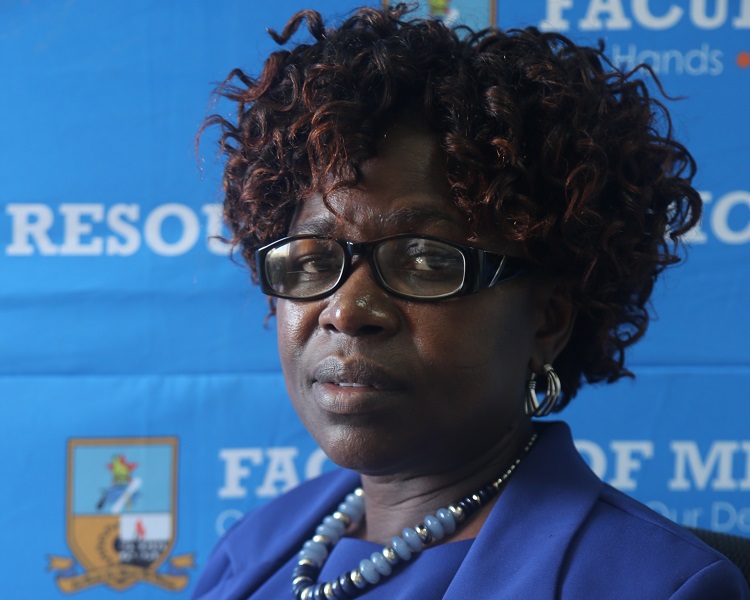 Qualifications:
DPhil in Agricultural Meteorology, University of the Free State, Bloemfontein, South Africa, 2014
Master of Science, Agricultural Meteorology, University of Zimbabwe, 1997.
Bachelor of Science Honors in Agriculture (Crop Science major), University of Zimbabwe, 1988.
Research Interests:
Agronomy, agro-meteorology (crop bias);

Climate change adaptation and mitigation;

Resilience building to climate change and smallholder agriculture.
Selected publications
Veronica Makuvaro

, Sue Walker, Tirivashe Phillip Masere and John Dimes. 2018. Smallholder farmer perceived effects of climate change on agricultural productivity and adaptation strategies. Journal of Arid Environments, Vol. 152 : 75–82.

https://doi.org/10.1016/j.jaridenv.2018.01.016
Veronica Makuvaro

, C.T.F. Murewi, John Dimes and Ignatius Chagonda. 2018.

Are Smallholder Farmers' Perceptions of Climate Variability and Change Supported by Climate Records? A Case Study of Lower Gweru in Semiarid Central Zimbabwe. Weather , Climate, and Society, 10: 35-49.
V. Makuvaro,

S. Walker , A. Munodawafa, I. Chagonda, P . Masere , C. Murewi and C. Mubaya. 2017. Constraints to crop production and adaptation strategies of smallholder farmers in semi-arid central and western Zimbabwe. African Crop Science Journal, Vol. 25, No. 2, pp. 221 – 235.

http://dx.doi.org/10.4314/acsj.v25i2.7
Makuvaro, V.,

Walker, S., Munodawafa, A., Masere, T.P, Murewi, C. and Chagonda, I. 2014. An overview of current agronomic practices of smallholder farmers in semi-arid Central and Western Zimbabwe. African Journal of Agricultural Research. 9(35: 2710-2720. https://DOI: 10.5897/AJAR11.606

Zirebwa, F.S., Kapenzi, A., Makuvaro, V.,

Sammie, B. and Madanzi, T. 2015. An evaluation of the performances and subsequent calibration of three solar radiation estimation models for semi-arid climates in Midlands, Zimbabwe. Midlands State University Journal of Science, Agriculture and Technology, Special Edition 2015.44-55.

Ignatius Chagonda, Adelaide Munodawafa, Francis T. Mugabe, Veronica Makuvaro

, Philip Masere, and Cyril T. F. Murewi. Comparative performance of scientific and indigenous knowledge on seasonal climate forecasts: A case study of Lupane, semi- arid Zimbabwe.

Chandiposha, M., Chagonda, I. and Makuvaro

, V. 2013. Utilisation of common grain crops in Zimbabwe . African Journal of Food Science. 7(9):253-257.

Munodawafa, A., Makuvaro, V.,

Dimes, J, Mugabe, F., Masere, P., Murewi, C. and Chagonda, I. 2011. Developing farmers' coping and adaptation strategies to climatic variability and change in semi-arids of Zimbabwe: Chapter 4: pp277-294. In: Adaptation to climate change: Strategies for exchange and sharing of information for the benefit of communities. Eds.Amadou Sall & Amadou Moctar Dieye ISBN 978-2-9534155-2-0. Copyright CES, Dakar 2011.

Chiroro, D., Milford, J. and Makuvaro, V.

2006. An investigation on the utility of the sunscan ceptometer in estimating the leaf area index of a sugarcane canopy.

Proceedings of the South African Sugar Technology Association, 80:143-147.
Mugabe, F.T., Munodawafa, A., Dimes, J., Nanja, D.H., Carberry, P., Mwale, M.,Mubaya, C., Makuvaro, V.,

Chagonda, I., Masere, P., E. Mutswangwa and Murewi, C. 2010. Building Adaptive Capacity to Cope with Increasing Vulnerability Due to Climate Change. Technical report for the IDRC Climate Change and Adaptation in Africa (CCAA) project: IDRC Project Number: 104144

Makuvaro Veronica,

Ngara Rosemary and Magwa Simuforosa, 2015. Barriers to effective learning by university students on Work-Related Learning: A case study of students on work related learning in Gweru urban area of Zimbabwe. Journal of Social Sciences Research, 7(1):1250-1260.

Mutikani, V

and Shumba E, 2002. Environmental management in Zimbabwe. Have the national plans worked? Organization for Social Sciences Research in Southern and East Africa, Environmental series no. 4, Ethiopia.
Suggest a correction
If you'd like to suggest a correction for this profile and you are the owner use the edit button button below. For corrections to another person's profile contact the Webmaster on the email webmaster@staff.msu.ac.zw or call ext 2132
Edit Profile