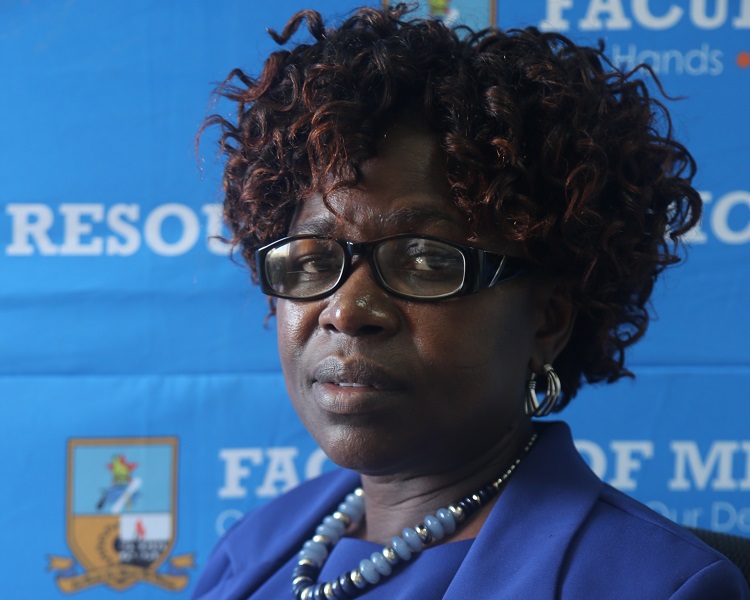 Dr Veronica Makuvaro
Position: Chairperson & Senior Lecturer
Qualifications:
DPhil in Agricultural Meteorology, University of the Free State, Bloemfontein , South Africa, 2014. Research topic: "Impact of climate change on smallholder farming in Zimbabwe, using a modeling approach."
Master of Science, Agricultural Meteorology, University of Zimbabwe, 1997.
Thesis title: "Using a satellite-derived vegetation index, NDVI, to estimate maize
yields in selected communal areas of Zimbabwe".
Bachelor of Science Honors in Agriculture (Crop Science major),University
Of Zimbabwe, 1988.
Research Interests:
Climate change and adaptation
Agronomy
Agro meteorology (crop bias); teaching & learning
Publications:
Articles in refereed journals
Makuvaro Veronica,Walker Sue, Munodawafa Adelaide, Masere Tirivashe Phillip, Murewi Cyril and Chagonda Ignatius, 2014. An overview of current agronomic practices of smallholder farmers in semi-arid Central and Western Zimbabwe. African Journal of Agricultural Research,. 9(35):2710-2720.
Misheck Chandiposha, Chagonda Ignatius and Makuvaro Veronica. 2013. Utilisation of common grain crops in Zimbabwe. African Journal of Food Science, 7(9): 253-257
Ignatius Chagonda, Adelaide Munodawafa, Francis T. Mugabe, Veronica Makuvaro, Philip Masere, Cyril T. F. Murewi. 2013. Comparative performance of scientific and indigenous knowledge on seasonal climate forecasts: A case study of Lupane, semi- arid Zimbabwe. International Journal of Agronomy and Agricultural Research, 3(5):1-9.
Chiroro, D., Milford, J and Makuvaro V. 2006. An investigation in the utility of the sunscan septometer in estimating the leaf area index of a sugarcane canopy. Proceedings of South African Sugar Technology Association, (80):143-147.
Zirebwa, F.S., Kapenzi, A., Makuvaro, V., Sammie, B. and Madanzi, T. An evaluation of the performances and subsequent calibration of three solar radiation estimation models for semi-arid climates in Midlands, Zimbabwe. (paper accepted for publication in the Midlands State University Journal of science, Agriculture and Technology – MSUJSAT).
Makuvaro Veronica, Ngara Rosemary and Magwa Simuforosa, 2015. Barriers to effective learning by university students on Work-Related Learning: A case study of students on work related learning in Gweru urban area of Zimbabwe. Journal of Social Sciences Research, 7(1):1250-1260.
Magwa, S., Makuvaro, V. and Ngara, R. 2015. Challenges Encountered in Scaffolding Undergraduate Research Projects: the Case of Three Universities in Zimbabwe. Journal of Educational Policy and Entrepreneurial Research (JEPER) 2(10):58-65.
Ngara, R., Makuvaro, V. and Magwa, S. 2016. Quality Assurance Effectiveness: Perceptions of Students and Lecturers on the Quality Assurance Mechanisms Employed in the PGDE Programme at Zimbabwe Open University. International Journal of Physical and Social Sciences, 6(2): 17-25.
Books
Mutikani, V and Shumba E, 2002. Environmental management in Zimbabwe. Have the national plans worked? Organization for Social Sciences Research in Southern and E, Environmental series no. 4. Ethiopia. 58pp.
Munodawafa, A., Makuvaro, V., Dimes, J., Mugabe, F., Masere, P., Murewi, C. and Chagonda, I. 2011. Developing farmers' coping and adaptation strategies to climatic variability and change in semi-arid areas of Zimbabwe: Chapter 4: pp 277-294. In: Adaptation to Climate Change: Strategies for exchange and sharing of information for the benefit of communities. Edited by Amadou Sall and Amadou Moctar Dieye ISBN 978-2-9534155-2-0. Copyright© CES, Dakar 2011.
Conference / workshop papers
Makuvaro Veronica, Walker Sue, Dimes John, Hargreaves John, Crimp Steve and Gwazane Munyaradzi, 2015. Simulating climate change effects on growth and yield of maize grown under semi-arid conditions of central Zimbabwe. Paper presented at the Fifth Conference on Climate Change and Development in Africa (CCDA-V) "Africa, Sustainable Development and Climate Change: prospects of Paris and beyond" October 28–30, 2015. Victoria Falls, Zimbabwe.
Makuvaro, V., Murewi, C., S. Crimp, S. and Walker, S. 2010. Evidence of Climate Change from Rainfall Data in Semi-arid Zimbabwe. Poster presentation made at the 11th WaterNet/WARFSA/GWP‐SA Symposium held on 27-29 October 2010 – Victoria Falls, Zimbabwe.
Mutikani, V. 1998.Dissemination and Utilization of the 1997/98 seasonal climate forecasts by the Department of Agricultural Technical and Extension (AGRITEX) services. Proceedings of the Post Season National Climate Stakeholders Seminar, Harare– 1998
Mutikani, V. 1998.Lessons learnt from the 1997/98 seasonal climate forecasting process.Proceedings of the workshop on Improving Use of Seasonal Climate Forecasts in the Communal Farming Sector. Department of Meteorology – Ministry of Transport and Energy, Harare.
Non-refereed publications and research reports /papers papers
Mugabe, F.T., A. Munodawafa., J. Dimes., D.H. Nanja., P. Carberry., M. Mwale., C. Mubaya., V. Makuvaro., I. Chagonda., P. Masere., E. Mutsvangwa and C. Murewi. 2010. Building Adaptive Capacity to cope with Increasing Vulnerability due to Climate Change. Technical Report, Climate Change and Adaptation in Africa (CCAA), IDRC project number: 104144. International Development Research Centre (IDRC), Ottawa, ON, Canada.
Mutikani, V. 1994.Production and Utilization of soyabeans at home.Department of Agricultural Technical and Extension Services (AGRITEX), Training Branch , Harare.
Mutikani, V. 1994.How to grow sunflowers.A guideline for smallholder farmers.Department of Agricultural Technical and Extension Services (AGRITEX) Training Branch ,Harare.
Community Engagement / Outreach programmes:
Engaging agricultural extension officers in Gweru District on Climate information with focus on climate change and Agriculture as well as seasonal rainfall forecasts: Participated and made a presentation on "Overview of Climate change and Agriculture" at a one day workshop held for AGRITEX officers from Gweru District and organized by The Faculty of NRM&A at MSU: November, 2015.
Conducting farmer workshops in Lower Gweru area on climate change information : November 2010
Conducting farmer workshops on the use of seasonal climate forecasts, under the Zimbabwe/Zambia IDRC climate change project (IDRC/CCAA project number 104144)–September 2008 – September 2009.
Farmer training on summer field and horticultural crop production – team work, September 2004.
Training of small-scale irrigation farmers on effective and safe use of agro-chemicals on both field and horticultural crops; July – August, 2003
Training Agricultural Extension officers on: Formulation of extension strategies given a seasonal climate forecast (1998) – Joint exercise between AGRITEX (National Early Warning Unit for Food Security- Zimbabwe) and the Zimbabwe Meteorological Department)
Suggest a correction
If you'd like to suggest a correction for this profile and you are the owner use the edit button button below. For corrections to another person's profile contact the Webmaster on the email webmaster@staff.msu.ac.zw or call ext 2132
Edit Profile