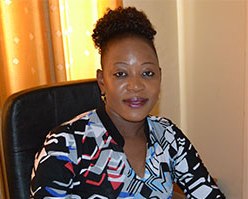 Qualifications:
Doctor of Literature (English) University of Pretoria
MA. English, University of Zimbabwe
BA. Special Honours in English, University of Zimbabwe
BA. General, University of Zimbabwe
Research Interests:
Autobiography and identities,
Gender and nationalism,
Postcoloniality and Bakhtinian dialogism in African literature.
Publications:
Ngoshi H. T. and Pasi, J. S., (2007) Mediating HIV/AIDS Strategies in Children's Literature in Education, in Children's Literature in Education, 38: 4. pp. 243-251.
Vhutuza, E. and Ngoshi, H.T. (2008) Nationalism or Supranationalism in the 21st Century? In African Integration Review, 2: 1. pp.177-187.
Ngoshi, H.T. (2009) Recovering the Tongue: Memorialising Grieved Women Through Spirit Possession and Ritual in Zimbabwean Literature. In African Identities, 7: 4. pp. 451-461.
Ngoshi, H.T. (2009) When the Masculine Migrate from Importance to Impotence: The Politics and Erotics of Political Power in Llosa's The Feast of the Goat and Ousmane Sembene's Xala. In Latin American Report, 1: 2. pp. 5-17.
Ngoshi, H.T. and Zhou, S. (2010) Speaking Positions: Zimbabwean Women's Writing in English and the Disease, Pain and Trauma Paradigm. In Imbizo, 1: 2. pp. 44-58.
Ngoshi, H.T. (2011) Erasure of girlhoods, Inscriptions of Womanhood: A study of Erased Girlhoods in Selected Zimbabwean Fiction. In NAWA, 4 & 5: 2. pp. 241-249.
Ngoshi, H. T. 2012. Mapping the contours of an imperial and domestic settler subjectivity in early Rhodesian life writing: Hylda Richards and the heteroglossia of her epoch, Imbizo 3:1, 34-46.
Ngoshi, H. T. 2012. When the visual and written texts collide: photographic images and acts of memory in Zimbabwean autobiography, Scrutiny2: Issues in English Studies in Africa, 17: 2, 55-66.
Ngoshi, H. T. and Mutekwa, A. 2013. The female body and voice in audiovisual political propaganda jingles: the Mbare Chimurenga Choir women in Zimbabwe's contested political terrain, Critical Arts: South-North Cultural and Media Studies, 27: 2, 235-248.
Ngoshi, H. T. 2013. Masculinities and femininities in Zimbabwean autobiographies of political struggle: the case of Edgar Tekere and Fay Chung, Journal of Literary Studies, 29:3, 119-139.
Nyawo-Shava, V. and Ngoshi, H. T. 2013. Gendering the African national project in the 21st century. In Ndlovu-Gatsheni, S. J. and Ndhlovu, F. (eds), Nationalism and National Projects in Southern Africa: New Critical Reflections. Pretoria: Africa Institute of South Africa. 218-230.
Suggest a correction
If you'd like to suggest a correction for this profile and you are the owner use the edit button button below. For corrections to another person's profile contact the Webmaster on the email webmaster@staff.msu.ac.zw or call ext 2132
Edit Profile